The 2018 New York Pest Expo – "Transitions." Friday, November 9, 2018

Food * Cocktails * Gifts * Prizes *  Exhibits * Training * Special Offers * Great Location * Free Parking * Fresh Speakers * New Themes!
The 16th edition of the New York Pest Expo. Friday, November 9th, 2018
The George Washington Bridge Doubletree Hotel
2117 Route 4 East, Fort Lee, NJ 07024
Life is about Transitions. Never stop growing.
This year, five of the foremost experts in the pest management industry led educational sessions on topics ranging from insect metamorphosis, the protection of food and public health, tick management, real-life rodent control and tracking the next Zika.
Since its inaugural event in 2003, The New York Pest Expo has grown in influence and scope to become one of the most significant events in pest management. Each edition continues to draw more attendees and exhibitors than ever before. The Expo continues to thrive because it's always fresh and energized.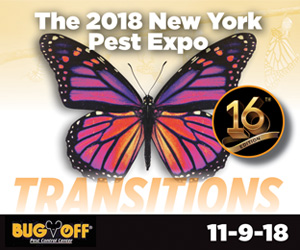 Today, the expo has become a true gathering of leading professionals enjoying a day of food, gifts, prizes, exhibits, training and special offers. It serves as a showcase of some of the most notable figures in pest management, and exhibits feature major product manufacturers and business support providers.
Smart Pest Management in Retail Food Accounts
Presented by Greg Baumann of Nisus Corp.
Restaurants, convenience stores, grocery stores and other retail food accounts all have different needs and expectations. Every account is different when it comes to their operation, hours and objectives. Understanding the special needs and challenges of each account is key to success.
Greg Baumann discussed how to develop sound pest management programs focused on these type of establishments. This session didn't focus on pesticides or pest biology but instead was geared toward the business aspect of retail food accounts. Knowing how to talk with customers will help PMPs distinguish themselves as the expert and rise above the rest of the competition.
Greg Baumann is the vice president of technical services and regulatory affairs at Nisus Corp. For sixteen years, Baumann was with the National Pest Management Association and was instrumental in the development of NPMA Standards for Pest Management in Food Plants.
The Wonders of Complete Metamorphosis
Presented by Lou Sorkin, BCE, of Entsult Associates
Complete metamorphosis in insects is all about dramatic transformations in appearance. This year, Lou Sorkin, a New York Pest Expo veteran, spoke on the marvels of holometabola, one type of metamorphosis exhibited by insects. The other two types of metamorphosis include hemimetabola and ametabola.
In holometabolous insects, there are four developmental stages in the life cycle: egg, larva, pupa, and adult. But in some cases, there are hyper-metamorphic insects.
After learning all about these insects and their metamorphosis cycles, Sorkin unveiled his live insects to examine and he even offered  some insects to taste!
Lou Sorkin, BCE, has provided entomological expertise to homeowners, businesses, associations and institutions since 1978. He works extensively with pest management companies to implement integrated pest management programs for their clients.
Pest Control & the Protection of Health and Property — Partners for the Good of All
Presented by Dr. Stanton Cope of Atlantic Paste and Glue – Catchmaster
For his first year at the New York Pest Expo, Dr. Stan Cope shared an in-depth look at all the different ways pest control can benefit public health; including from a medical, environmental, economic and psychological standpoint.
The Future of Mosquito-Borne Illnesses
Presented by Dr. Stanton Cope of Atlantic Paste and Glue – Catchmaster
It's time for mosquitoes by the numbers. PMP's must understand how mosquitoes harm us and be aware our ability to control them.
After reviewing the impact of Zika in 2015-2016, Cope  discussed all of the factors that come together for a disease outbreak to occur. Can we predict future outbreaks? What are the future threats? There are other major viruses already out there, which Cope says will eventually make their way to the U.S.
Dr. Stanton E. Cope, Jr., PhD, is currently the vice president of technical products and services for Atlantic Paste and Glue – Catchmaster. He served 24 years in the United States Navy as a medical entomologist, retiring with the rank of Captain in 2012. He has also authored over 80 publications and has delivered over 100 presentations at scientific meetings.



What Makes Ticks Tick?
Presented by Dr. Nicola (Nicky) Gallagher of Syngenta Professional Pest Management

With a steady increase in the incidence and spread of tick-borne diseases, the pest control industry must know how to manage a tick problem. Tick control can be an excellent add-on service for your business. This presentation discussed the importance of tick identification, tick borne diseases and tools available for tick management.
Dr. Nicky Gallagher joined Syngenta Professional Products in 2012 and serves as the Technical Services Manager for the Midwest and Northeast Professional Pest Management market. She maintains responsibility for all phases of field testing and technical support within her region and coordinates numerous research programs with university researchers.
Rodent Control — Let's Get Serious
Presented by John Murphy of Liphatech
John reviewed common misconceptions when it comes to rodent control. How do we use the rodent's behavior to our advantage and how do we best deploy the tools available to us? Serious rodent control includes inspection, trapping and rodenticides. We also received an update on pathogens associated with rodents.
John Murphy is the northeast district sales manager for Liphatech, a position he's held for 20 years. He has spent over 35 years working in the urban pest management industry. He once owned and operated commercial service companies, as well as a pesticide distribution firm.
Our Exhibitors: