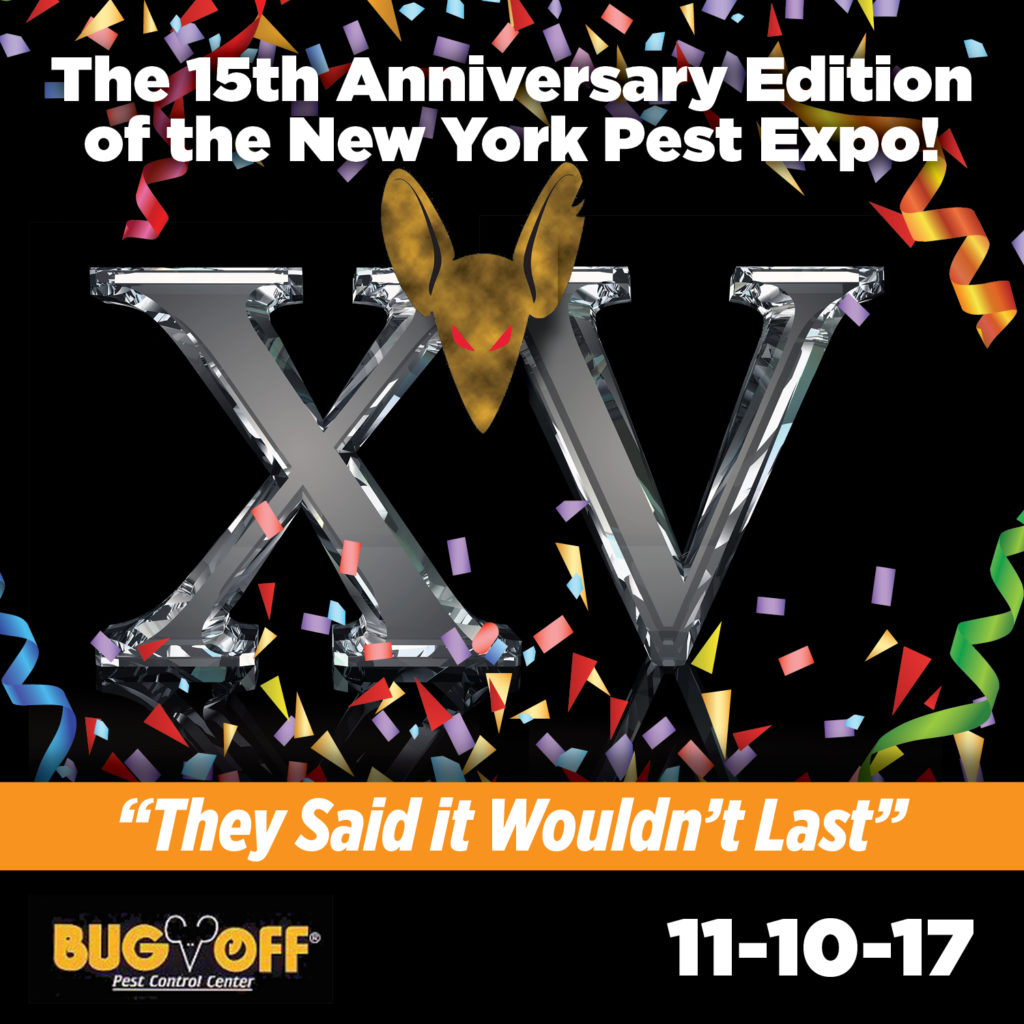 25 Nov

The 2017 New York Pest Expo – 15th Anniversary Edition

Posted at 01:00h

in

Expos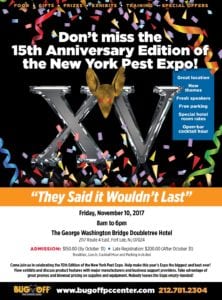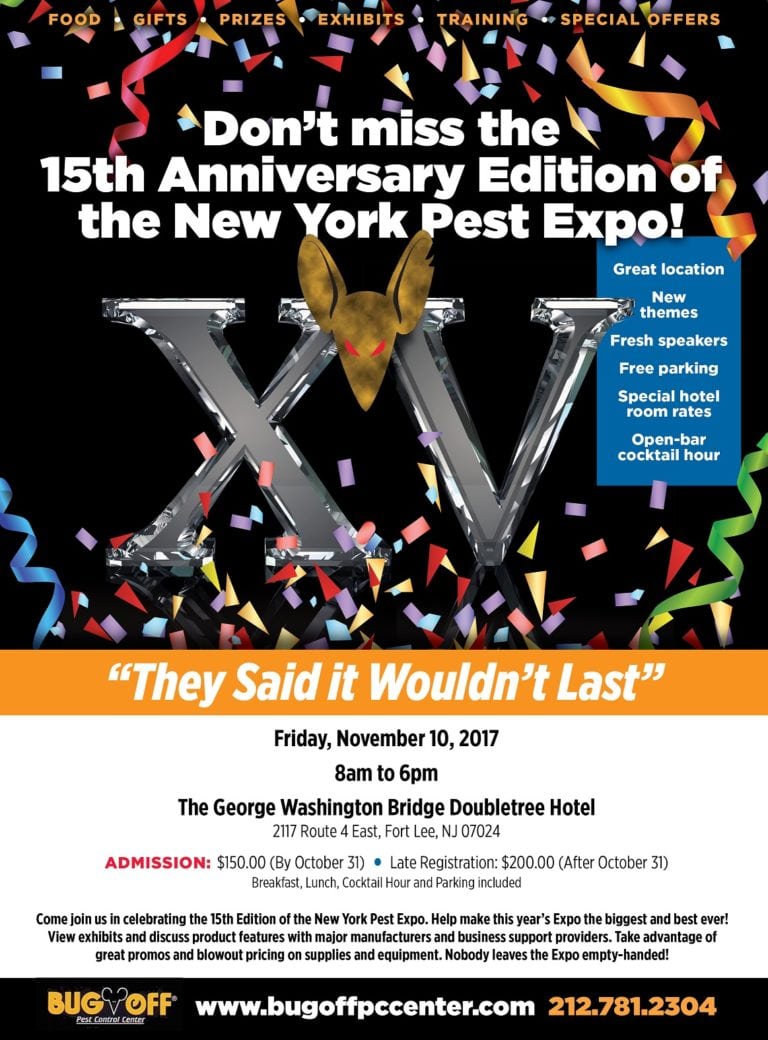 Friday, November 10, 2017, 8 am to 6 pm
The George Washington Bridge Doubletree Hotel
Free Parking!
Total NYS DEC credits for the entire event: Core: 1.0, 7A: 5.0, 7F: 4.50, 8: 3.50
Check out the Expo Photo Album
---
Our Speakers:
Dr. Reid Ipser, Ph.D., Nisus Corp.
Pesticide Families, Modes of Action and Overcoming Resistance
Resistance often has a direct relation to the pesticide families we choose to use. Pesticide families, in turn, are separated by their modes of action. By understanding this dynamic, we can employ several tactics beyond traditional IPM in order to overcome the resistance phenomenon.
After his graduate studies, Dr. Reid Ipser worked as a regional technical director and operations manager for Home Team Pest Defense and later successfully worked in product development formulation for Waterbury Companies and FMC. Reid joined Nisus Corporation in 2015 as its Director of Technical Services where he is responsible for handling customer inquiries, training, presentations, content development and field support for sales. Dr. Ipser has more than 12 years of practical experience in the pest control industry and holds multiple degrees in Entomology, including a Ph.D. from the University of Georgia. Reid is the author of numerous scientific publications. This is Dr. Ipser's first appearance at the New York Pest Expo. We are grateful to our friends at Nisus for sponsoring his presentation.
David Nardolilli, BCE, BASF
Filth Flies in the Commercial Arena
Understanding large and small filth flies and the impact they have in commercial settings. We will learn how to customize a comprehensive fly program based on real-life scenarios.
David Nardolilli is a Board Certified Entomologist with board certification in Urban and Industrial Entomology. He earned his BS in Biology in 1980 and his BS in Chemistry in 1981 from Ramapo College of New Jersey. David began his award-winning career in pest management sales in 1983 in Northern New Jersey and later in New York City. In 2002 David moved to the manufacturing side of the business as the mid-Atlantic and Northeast Regional Technical Specialist for Whitmire Microgen Research Laboratories. In 2008, David moved over to BASF Corporation after its acquisition of Whitmire Microgen. At BASF David has held positions as Senior Sales Specialist I and II, National Key Account Manager/Vector Segment and National Key Account Manager for Animal Health. David resides in Ringwood, NJ with his wife Laura and 23-year-old daughter Diana – a recent Rutgers graduate. David also has a musician son, David Garrett who resides in Los Angeles, CA. This is David's first appearance at the New York Pest Expo. We are grateful to our friends at BASF for sponsoring his presentation.
Dr. Faith Oi, Ph.D., University of Florida
Ant Management – Choosing the Right Formulation
Ants are notoriously difficult to control. The importance of choosing the right formulation based on species, surface and timing will determine success or failure. Dr. Oi will also introduce us to some invasive species heading our way.
Dr. Oi is the Director of Pest Management University, a hands-on training facility, and the Director of the Florida School IPM program. She does applied research with graduate students to solve industry problems. As part of her extension duties, she works closely with state regulatory officials. She was appointed to the Pest Control Enforcement Advisory Council, and has been a member of the National Pest Management Association's technical committee for many years. This is Dr. Oi's second appearance at the New York Pest Expo. We are grateful to our friends at Bayer Environmental Sciences for sponsoring her presentation.
James Rodriguez, ACE, JT Eaton & Co., Inc.
Rodent Control – Inside and Out
Conditions in a rodent's environment like temperature, air flow and sound have to be considered when designing a rodent program. Keeping these issues in mind will guide us in habitat modification and in determining whether to use bait stations or devices. We will explore the latest advances in the use of rodenticides including new safety features, anchoring options and formulation types.
James has spent the last 32 years in the Pest Control Industry and is currently Technical Director for JT Eaton, covering the Western US. He offers consultations on rodent and insect control to public and private entities; provides in-house training of employees and sales teams; is a continuing education provider to Pest Management Professionals; and evaluates new and existing products for JT Eaton. James holds multiple California Pest Control licenses James is also an Associate Certified Entomologist (ACE) and a member of Pi Chi Omega, the national professional pest control fraternity. This is James' first speaking appearance at the New York Pest Expo. We are grateful to our friends at JT Eaton for sponsoring his presentation.
Dean Stanbridge, Direct Line Sales
Cockroach Control – A Reality Check
Full disclosure: There is no silver bullet or magic formula for defeating this persistent and perennial pest. What is required is knowledge, experience, due diligence, flexibility and the willingness to adapt along with the roach. Be ready to learn some great tips.
Dean is a 1984 Graduate of Fleming College's, Environmental Pest Management Program. He is currently V.P. & Technical Director for Direct Line Sales Corp., a leading Canadian supplier of Pest Management Products. He also owns Professional Pest Consultants, an industry consulting firm. Dean has over 30 years of pest management experience. From 1987-2008 he was the Vice President and Technical Director for The Steritech Group Corp, Milton Ontario, Canada. He has lectured at numerous symposiums and authored many papers/articles on the topics pertaining to pest control. He's a retired columnist for "Pest Management Professional" magazine, where he wrote for 2 decades. He also authored the Fumigation Chapter for the 10th Edition of "The Handbook of Mallis". His research in reduced pesticide techniques and methyl bromide alternatives through the application of new technologies has led to contracts with UNIDO, UNEP and Environment Canada and has earned him several worldwide awards for his work on reducing the impact to the ozone layer. He is a past member of the Pest Management Advisory Committee (PMAC) for Health Canada as an advisor to the Canadian Minister of Health on pesticide issues. This is Dean's third appearance at the New York Pest Expo.
Lou Sorkin, BCE, Entsult Associates
Bed Bugs and Other Persistent, Irritating, Hard-to-Kill Pests
What makes Bed Bugs, Mites, Wood-Infesting Insects, Ants, Stored-Product Pests and some Occasional Invaders so difficult to control? Through case studies, we will explore biological information and environmental conditions that help make them so hard to manage.
Since 1978 Lou has provided entomological expertise to homeowners, businesses, associations and institutions. He has been involved in cases regarding species identification, pest management and infestations as well as the diagnosis of bites and stings as they apply to various aspects of applied, medical, veterinary, and forensic entomology. Lou works extensively with pest management companies to implement integrated pest management programs for their clients. Lou is a specialist in entomophagy (the practice of using insects as food). Lou has made more presentations at the New York Pest Expo than any other speaker.
Our Exhibitors
APEX Steam Technologies
The APX390 Steam Cleaning System is the market leader for steamers used by PCO's in the treatment of bed bugs & eggs, drain flies & larvae and other pests. It is very effective with high temperature of 220 degrees F at contact; low moisture of 5%,;low pressure options of 35, 45, & 56 PSI; compact and light weight and very affordable. Test one out and pick one up at a blowout price at the New York Pest Expo.
Atlantic Paste and Glue
Atrix International
The Atrix line of Professional IPM Vacuums are Safe, Powerful, Clean, Efficient and Quiet. Why just kill bugs, when you can eliminate them? Increase your service, and increase your revenue with a Professional Atrix IPM Vacuum.
B&G Equipment Company
Be sure to stop by and visit with National Marketing manager Bob Heiney between instructional sessions at the New York Pest Expo. He will answer your toughest technical questions and give you tips on using equipment to maximize your earnings potential. Don't forget, B&G Knows How You Work!
BASF
Bayer
When you're Backed By Bayer, you have exactly what you need to get the job done right. From breakthrough products to business building tools, we're making getting the job done easier and more efficiently than ever before. Visit us at the 15th Anniversary Edition of the New York Pest Expo to find out how Bayer is transforming the future of pest management.
Bell Labs
Bird Barrier
EcoRaider
EcoRaider Professional is proven to be effective for bed bug remediation. With fast acting resistance control and lab- and field-proven 90% kill in one hour, plus 14-day residual, EcoRaider Professional simplifies bed bug jobs. It has been named the most effective natural insecticide for bed bugs by the Entomological Society of America journal and field proven in USDA IR-4 Public Health Pesticide Program study. EcoRaider Professional is also a premium green solution for perimeter ant control for both indoor and outdoor use. It provides key benefits to pest management professionals including fast kill in minutes, disruption of ant trails and prolonged prevention for 4 weeks. EcoRaider is low-odor and is non-staining. Its 25(b) status makes it safe for all environments and the perfect partner for IPM programs. Visit us at the Expo and pick up a pint of EcoRaider at a blowout price that day only. Learn how to go green effectively.
Green Gorilla
The Green Gorilla Advanced Delivery System is a first-of-its kind delivery method to improve productivity, do away with pumping, provide a better application method with optimum PSI, and reduce user fatigue. Increase your profits by realizing savings of 25% or more on pesticides; and improve productivity by getting more jobs done in a day. Powered by Lithium Ion Technology. Come try out this field-tested and proven technology for yourself at the Expo and pick one up at a blowout price!
HIBU
Hibu is a 360-degree marketing company. We offer a full spectrum of marketing tools and services that go "Beyond Yellow" to lead our clients to success now and in the future. Our range of products include building websites, SEO & SEM, reputation management, social media applications, direct mail, print advertising and more. We go beyond yellow! We're looking forward to another great New York Pest Expo.
JT Eaton & Co, Inc.
JT Eaton Co has been a manufacturer for the Pest Management industry for more than 80 years. We have a full line of rodent management products as well as bed bug management. Our ready-to-use liquid sprays and our great aerosol will help you combat the toughest bed bug issues. Please visit us at the NY Expo!
LiphaTech

Liphatech offers superior and innovative rodent control products. We strive to consistently provide the most effective products and outstanding customer service to assist Pest Management Professionals in improving the quality of human life. We were the first to develop and offer the newest rodenticide formulation – soft bait – the most significant improvement in rodent control technology in several decades. We see soft bait as the future of rodenticides. It can be used anywhere mini block rodenticide is used. For more information about Liphatech and its comprehensive line of products, come join us at the Expo!
Mattress Safe, Inc.
Mattress Safe, Inc. offers bed-bug-certified and state-of-the-art mattress protection that is waterproof, breathable, fire retardant and non-allergenic. The KleenCover® product line is now assembled in the USA guaranteeing the highest manufacturing quality available. Made from a luxurious fabric that is soft to the touch while conforming to fit any mattress, the KleenCover® Collection includes mattress, box spring, and pillow encasements for all of your bedding needs.
MGK
MGK has been in business for over 100 years. They manufacture Bedlam, Nyguard, Onslaught and the first-of-its-kind Vendetta Plus roach bait with the IGR already in the bait.
New York Pest Management Association

NYPMA is the one association in NY representing pest management professionals throughout the state on the legislative front as well as with the NYSDEC. Members enjoy joint-membership with the National Pest Management Association. Both associations offer members pest ID, model contracts, background screening services, gasoline discounts, HR guidance and literature for customers and technicians.
Nisus Corporation
A leader in Green Pest Management®, Nisus Corporation manufactures products for the professional pest management industry, providing it with quality products at the lowest possible impact to the environment. Nisus carries a complete line of products for wood preservation, pest control, sanitation and disinfection, and odor control. Nisus Corporation's flagship product is Bora-Care, a borate-based termiticide, insecticide and fungicide. Bora-Care is directly applied to wood, concrete, and foundation penetrations, creating a barrier and eliminating wood as a food source.
PBC/Weisburger Insurance

It's been more than 80 years since Weisburger wrote its first insurance policy for the pest industry. Since then, Weisburger Insurance Brokerage, a division of Program Brokerage Corp., has been providing insurance to pest management professionals (PMPs) nationwide. As the endorsed insurance program by the National Pest Management Association (NPMA), Weisburger continually works to tailor its terms and conditions to meet the needs of all PMPs. The program is underwritten by "A" rated (excellent) insurance companies. It offers coverages that include General Liability, Auto, Property, Equipment, Umbrella and Workers' Compensation.
PDM,
Representing:
Rockwell Labs
PelGar USA
PelGar USA specializes in rodent control products, notably Brigand Soft Bait, a highly effective and palatable bromadiolone-based rodent bait that is the only US formulation to use soft lard for better feeding and more effective use.
Pelsis, LLC.
Pelsis is a global supplier of environment enhancement products. We are a leading manufacturer of insect light traps, rodent bait stations, and many other pest control and hygiene products. Pelsis is focused on developing new, innovative products and solutions for the Pest Control market.
North Coast Media/Pest Management Professional Magazine
Our Mission:
l To Arm pest management professionals (PMPs) with the industry intel needed to better control structural pests and better compete with other companies and do-it-yourself alternatives.
l To Educate PMPs through species identification and control tips, news of emerging pest management obstacles and opportunities, and updates on regulations, technologies, techniques, and business tools and trends.
l To Captivate readers with PMP's unique brand of industry INFOtainment.
PestPac – By WorkWave
PestPac is the only true end-to-end solution for pest control companies of every size. Everything you need to manage and grow your business in one place. Let us help you reduce paperwork, squeeze time and cost from your day-to-day operations, generate more leads, close more sales and keep more customers.
Pest Control Marketing, Inc.
Pest Control Marketing Inc. is a digital marketing firm based in New York City that primarily serves the pest control industry. We provide an array of customized digital services to help pest control companies market their pest control services successfully in their respective markets. This year we are proud to expand our exclusive pest control lead program into the Tri-state area and look forward to partnering up with eligible New York Pest Expo attendees. Please stop by our booth to learn more information and to receive your free ticket for a chance to win an Apple iPad we will be raffling off at the Expo!"
Polti USA
Polti USA is the manufacturer of the Cimex Eradicator, the best-in-class dry steam machine, built and designed exclusively for bed bug extermination. Thanks to its patented technology, the Cimex Eradicator boasts a tip temperature of up to 356°F. Moreover, the steam produced is superheated drysteam. Standard steamers release more then 2 times the amount of water per minute compared to the Cimex Eradicator. The superheated dry steamgenerated by the patented hi-tech nozzle makes the Cimex Eradicator the best and most effective bed bug steamer on the market. Come to the Expo to give it a dry run and pick one up at a rock-bottom price.
Select Insurance Agency
Select Insurance Agency, Inc. is a family-owned and -operated company specializing in insurance products for the pest management industry. Select specializes in general liability, commercial automobile, umbrella liability, workers compensation, commercial property, employment practices liability, crime insurance and cyber liability specially tailored for the industry. We look forward to exhibiting at the 2017 New York Pest Expo this year and many years to follow.
ServicePro Software
ServicePro is a family-owned business with over 20 years of experience in the industry. They are the creators of the multi-browser-based software ServSuite – the all-in-one enterprise pest control and lawn care solution. The software has a powerful architectural design that enables you to operate a single branch or multiple locations all over the world. ServicePro are known for their ServSuite add-on modules that give it high functional value: Scheduling, Renewals, Invoicing, Commissions, Collections, Credit Card Processing, etc., as well as some of their newer additions: the Mobile Application, GPS Vehicle Tracking, Voice and Text Notifications, etc. ServicePro has a well developed Support Team strategy, so that customers are covered with all the help they need 24 hours a day, 6 days a week.
Syngenta
Syngenta professional pest management is committed to delivering innovative pest control solutions and a broader range of support services to help you succeed as a pest management professional and help your customers get on with life uninterrupted in a pest-free environment.The portfolio of products now available from Syngenta includes some of the latest chemistry available along with brands professional pest control professionals have trusted for many years.
Wildlife Control Supplies
Wildlife Control Supplies offers the largest selection of wildlife and animal handling equipment and supplies available anywhere, backed by the expertise to help you effectively handle nuisance wildlife and animal management situations of all kinds. We listen to our customers and add new products to our inventory regularly to support your needs. We truly are your one-stop resource for nuisance wildlife and animal control products, and are dedicated to saving you time and money.