The 2017 New York Pest Expo – 15th Anniversary Edition, Friday, November 10, 2017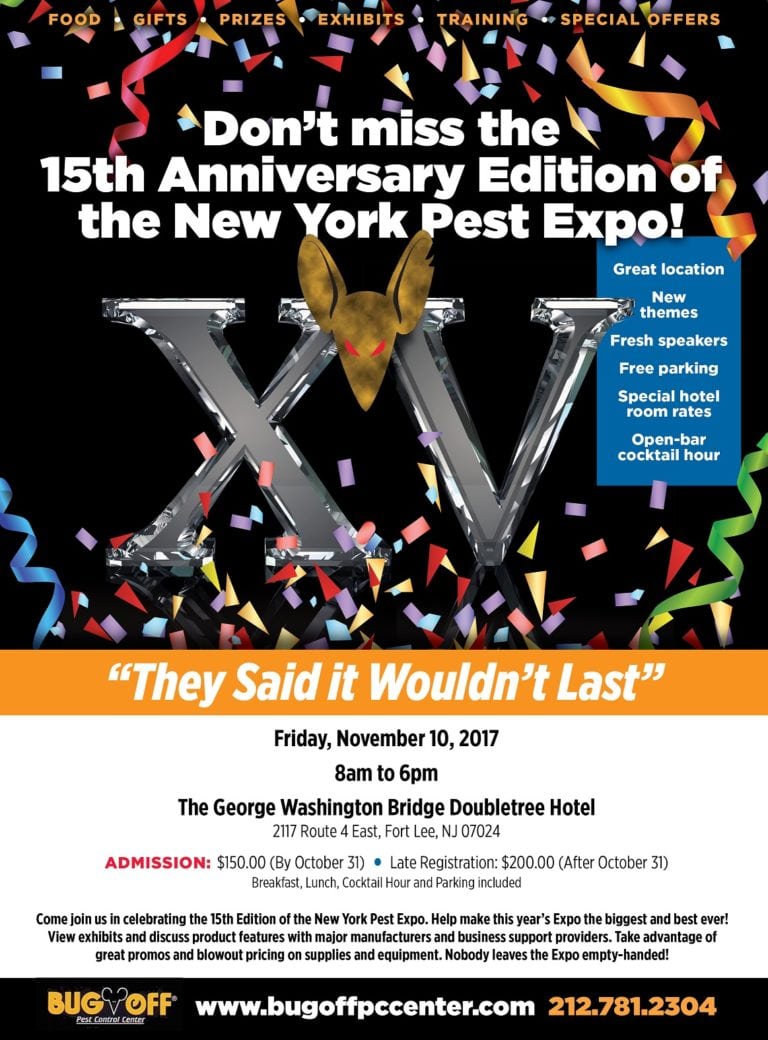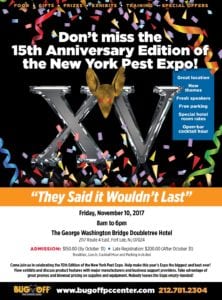 ---
Our Speakers:
Dr. Reid Ipser, Ph.D., Nisus Corp.
Pesticide Families, Modes of Action and Overcoming Resistance
Resistance often has a direct relation to the pesticide families we choose to use. Pesticide families, in turn, are separated by their modes of action. By understanding this dynamic, we can employ several tactics beyond traditional IPM in order to overcome the resistance phenomenon.
After his graduate studies, Dr. Reid Ipser worked as a regional technical director and operations manager for Home Team Pest Defense and later successfully worked in product development formulation for Waterbury Companies and FMC. Reid joined Nisus Corporation in 2015 as its Director of Technical Services where he is responsible for handling customer inquiries, training, presentations, content development and field support for sales. Dr. Ipser has more than 12 years of practical experience in the pest control industry and holds multiple degrees in Entomology, including a Ph.D. from the University of Georgia. Reid is the author of numerous scientific publications. This is Dr. Ipser's first appearance at the New York Pest Expo. We are grateful to our friends at Nisus for sponsoring his presentation.
David Nardolilli, BCE, BASF
Filth Flies in the Commercial Arena
Understanding large and small filth flies and the impact they have in commercial settings. We will learn how to customize a comprehensive fly program based on real-life scenarios.
David Nardolilli is a Board Certified Entomologist with board certification in Urban and Industrial Entomology. He earned his BS in Biology in 1980 and his BS in Chemistry in 1981 from Ramapo College of New Jersey. David began his award-winning career in pest management sales in 1983 in Northern New Jersey and later in New York City. In 2002 David moved to the manufacturing side of the business as the mid-Atlantic and Northeast Regional Technical Specialist for Whitmire Microgen Research Laboratories. In 2008, David moved over to BASF Corporation after its acquisition of Whitmire Microgen. At BASF David has held positions as Senior Sales Specialist I and II, National Key Account Manager/Vector Segment and National Key Account Manager for Animal Health. David resides in Ringwood, NJ with his wife Laura and 23-year-old daughter Diana – a recent Rutgers graduate. David also has a musician son, David Garrett who resides in Los Angeles, CA. This is David's first appearance at the New York Pest Expo. We are grateful to our friends at BASF for sponsoring his presentation.
Dr. Faith Oi, Ph.D., University of Florida
Ant Management – Choosing the Right Formulation
Ants are notoriously difficult to control. The importance of choosing the right formulation based on species, surface and timing will determine success or failure. Dr. Oi will also introduce us to some invasive species heading our way.
Dr. Oi is the Director of Pest Management University, a hands-on training facility, and the Director of the Florida School IPM program. She does applied research with graduate students to solve industry problems. As part of her extension duties, she works closely with state regulatory officials. She was appointed to the Pest Control Enforcement Advisory Council, and has been a member of the National Pest Management Association's technical committee for many years. This is Dr. Oi's second appearance at the New York Pest Expo. We are grateful to our friends at Bayer Environmental Sciences for sponsoring her presentation.
James Rodriguez, ACE, JT Eaton & Co., Inc.
Rodent Control – Inside and Out
Conditions in a rodent's environment like temperature, air flow and sound have to be considered when designing a rodent program. Keeping these issues in mind will guide us in habitat modification and in determining whether to use bait stations or devices. We will explore the latest advances in the use of rodenticides including new safety features, anchoring options and formulation types.
James has spent the last 32 years in the Pest Control Industry and is currently Technical Director for JT Eaton, covering the Western US. He offers consultations on rodent and insect control to public and private entities; provides in-house training of employees and sales teams; is a continuing education provider to Pest Management Professionals; and evaluates new and existing products for JT Eaton. James holds multiple California Pest Control licenses James is also an Associate Certified Entomologist (ACE) and a member of Pi Chi Omega, the national professional pest control fraternity. This is James' first speaking appearance at the New York Pest Expo. We are grateful to our friends at JT Eaton for sponsoring his presentation.
Dean Stanbridge, Direct Line Sales
Cockroach Control – A Reality Check
Full disclosure: There is no silver bullet or magic formula for defeating this persistent and perennial pest. What is required is knowledge, experience, due diligence, flexibility and the willingness to adapt along with the roach. Be ready to learn some great tips.
Dean is a 1984 Graduate of Fleming College's, Environmental Pest Management Program. He is currently V.P. & Technical Director for Direct Line Sales Corp., a leading Canadian supplier of Pest Management Products. He also owns Professional Pest Consultants, an industry consulting firm. Dean has over 30 years of pest management experience. From 1987-2008 he was the Vice President and Technical Director for The Steritech Group Corp, Milton Ontario, Canada. He has lectured at numerous symposiums and authored many papers/articles on the topics pertaining to pest control. He's a retired columnist for "Pest Management Professional" magazine, where he wrote for 2 decades. He also authored the Fumigation Chapter for the 10th Edition of "The Handbook of Mallis". His research in reduced pesticide techniques and methyl bromide alternatives through the application of new technologies has led to contracts with UNIDO, UNEP and Environment Canada and has earned him several worldwide awards for his work on reducing the impact to the ozone layer. He is a past member of the Pest Management Advisory Committee (PMAC) for Health Canada as an advisor to the Canadian Minister of Health on pesticide issues. This is Dean's third appearance at the New York Pest Expo.
Lou Sorkin, BCE, Entsult Associates
Bed Bugs and Other Persistent, Irritating, Hard-to-Kill Pests
What makes Bed Bugs, Mites, Wood-Infesting Insects, Ants, Stored-Product Pests and some Occasional Invaders so difficult to control? Through case studies, we will explore biological information and environmental conditions that help make them so hard to manage.
Since 1978 Lou has provided entomological expertise to homeowners, businesses, associations and institutions. He has been involved in cases regarding species identification, pest management and infestations as well as the diagnosis of bites and stings as they apply to various aspects of applied, medical, veterinary, and forensic entomology. Lou works extensively with pest management companies to implement integrated pest management programs for their clients. Lou is a specialist in entomophagy (the practice of using insects as food). Lou has made more presentations at the New York Pest Expo than any other speaker.
Our Exhibitors
APEX Steam Technologies
Atlantic Paste and Glue
Atrix International
B&G Equipment Company
BASF
Bayer
Bell Labs
Bird Barrier
EcoRaider
Green Gorilla
HIBU
JT Eaton & Co, Inc.
LiphaTech
Mattress Safe, Inc.
MGK
New York Pest Management Association
Nisus Corporation
PBC/Weisburger Insurance

PDM,
Representing:
Rockwell Labs
PelGar USA
Pelsis, LLC.
North Coast Media/Pest Management Professional Magazine
PestPac – By WorkWave
Pest Control Marketing, Inc.
Polti USA
Select Insurance Agency
ServicePro Software
Syngenta
Wildlife Control Supplies