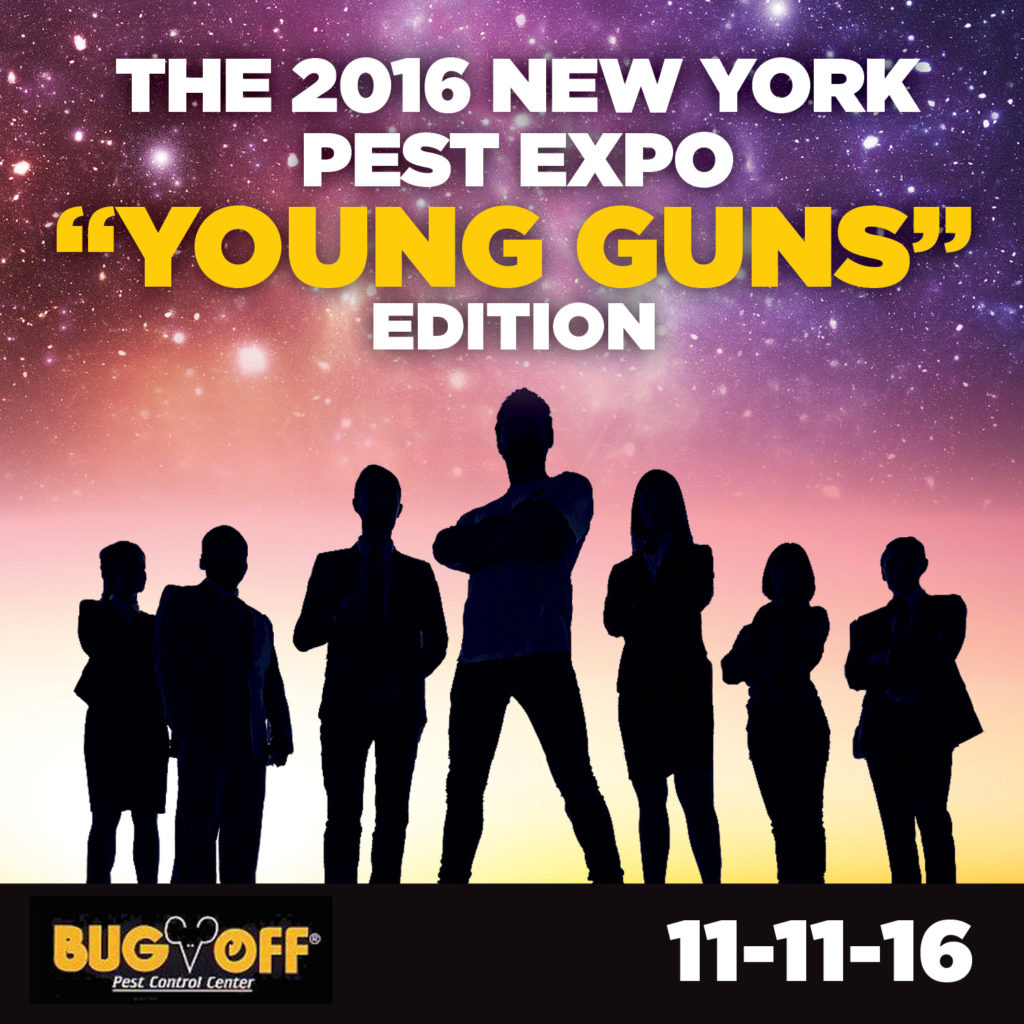 18 Nov

The 2016 New York Pest Expo – "Young Guns Edition."

Posted at 06:28h

in

Expos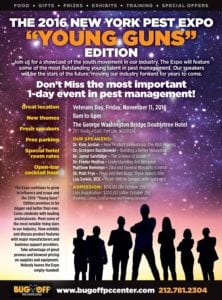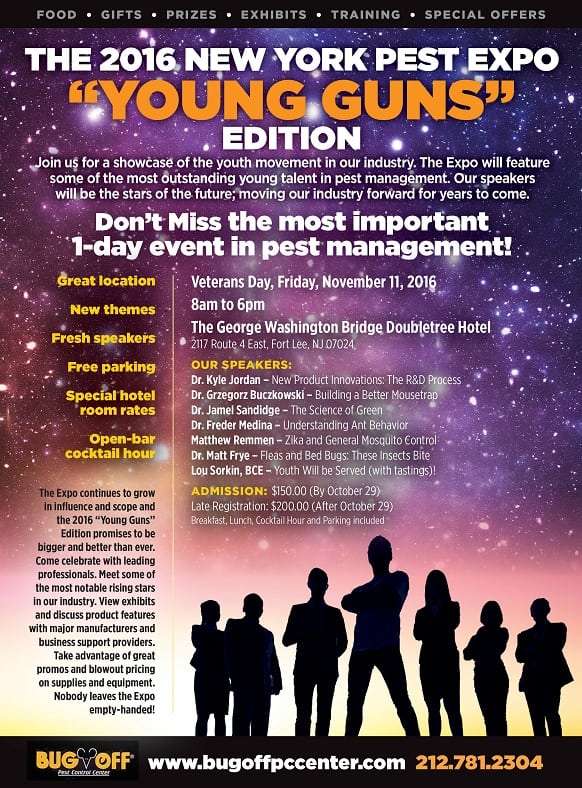 Food – Cocktails – Gifts – Prizes -Exhibits – Training – Special Offers
Great Location – Free Parking – Fresh Speakers – New Themes!
Veterans Day, Friday, November 11, 2016, 8 am to 6 pm
The George Washington Bridge Doubletree Hotel
2117 Route 4 East, Fort Lee, NJ 07024
201-461-9000
Click here to see our photo album
---
Our Speakers:
Dr. Kyle Jordan, Ph.D., BCE
Global Product Development Manager
BASF
"New Product Innovations – The Research and Development Process"
A discussion on the requirements for the registration of modern pest control products – R&D timelines, efficacy and safety studies and risk assessment reports.
Dr. Kyle Jordan began his pest control experience while studying at Ohio State, where he investigated human perceptions of insects and pesticide use and worked on product development and testing for a variety of manufacturers. He then joined the Whitmire Micro-Gen research team, where his main responsibility was termite product field research. After BASF and Whitmire joined forces, Kyle became a member of the BASF technical team, where he field tested products, trained PMPs, and provided technical support for BASF Pest Control Solutions products. He is currently the Global Product Development manager for Termite, GIC, and Rodent products for North America, working hard to help BASF bring innovative solutions to your businesses. This is Dr. Jordan's first appearance at the New York Pest Expo. We are grateful to our friends at BASF for sponsoring his presentation.
Dr. Grzegorz Buczkowski, Ph.D.
Research Associate Professor and Director, Industrial Affiliates Program
Department of Entomology
Purdue University
"Building a Better Mousetrap"
A presentation on the results of field studies seeking to improve the efficacy of bait stations and multiple-catch traps. Practical considerations to improve rodent devices through bait selection, luring techniques and device design.
Dr. Buczkowski has over 15 years of field and laboratory experience with all major urban pests including ants, cockroaches, termites, and bed bugs. Dr. Buczkowski's work in urban entomology started in 1996 at Rhone-Poulenc Agricultural Company in Research Triangle Park, NC where he performed pioneering work on fipronil bait for fire ant control. He received his M.S. and Ph.D. in Entomology from North Carolina State University, followed by a post-doctoral position at The Ohio State University. Dr. Buczkowski joined the Department of Entomology at Purdue University in 2004 where he is currently Research Associate Professor and Director of the Industrial Affiliates Program. His main research focus is on the ecology, behavior, and genetics of urban pest species, with emphasis on invasive ants. He is responsible for developing research and testing programs in collaboration with leading industry partners. Dr. Buczkowski has authored or co-authored over 50 scientific publications and numerous extension publications and presented over 80 papers at scientific and industry meetings. Dr. Buczkowski's work in urban entomology has been recognized by numerous awards including a scholarship from Phi Chi Omega, a scholarship from the North Carolina Pest Control Association, and a Recognition Award in Urban Entomology from the Entomological Society of America. This is Dr. Buczkowski's first appearance at the New York Pest Expo. We are grateful to our friends at Syngenta Professional Products for sponsoring his presentation.
Dr. Jamel Sandidge, Ph.D.
Rockwell Labs
"The Science of Green:"
The science behind botanical insecticides, formulation types and proper methods of use. An exploration of other non-botanical "green" options.

From a child who performed experiments on insects and spiders, to an adult who just could not shake his childhood fascination; some things never change. Dr Jamel Sandidge has been involved in multiple levels of the pest management industry for the last 16 years. He has developed a gift for simplifying complex subjects, complicated regulations, and difficult challenges in pest management. Since 2013, Dr. Sandidge has been a Research Entomologist at Rockwell Labs Ltd and is responsible for product research and development, and operates an insect rearing and testing facility. As a graduate student at the University of Kansas he introduced the world to the urban ecology and genetics of brown recluse spiders, while starting a pest management company in his spare time. He owned and operated BRS Pest Control and Consulting for 9 years, focusing primarily on difficult pest manage cases, earning his company the moniker of "The Persistent Pest Specialists" Dr Sandidge is the author of Brown Recluse Spiders: A Knowledge-Based Guide to Control and Elimination, and the inventor of the DustRODTM dusting extension and the LumaTACTM tactical flashlight holder. This is Dr. Sandidge's first appearance at the New York Pest Expo. We are grateful to our friends at Rockwell Labs for sponsoring his presentation.
Dr. Freder Medina, Ph.D., BCE
Technical Services Representative – Western, USA
BASF Corp.
"Understanding Ant Behavior"
The latest scanning electron microscopy studies on feeding behavior and the colony. An introduction to the concept of "rings of protection" for optimum results. An overview of products with proven transfer effects.
Dr. Freder Medina is a native of Santa Clara, Cuba. In 1990, he worked on his first entomology project: "The Study of Insect Pollinators Visiting Wild Orchids and Other Epiphyte Plant Species in the Central Region of Cuba". In 1996, he received his BS in Agricultural Engineering from Universidad Central de Las Villas. During this time (1990s) he specialized in biological control and worked on the mass production and release of two parasitoid wasps against the fall armyworm in corn. In 1996, he and his family were granted political asylum status and settled in Austin, Texas. He soon joined ABC Pest and Commercial Services (formerly ABC Pest Control) where he obtained his Texas pest control operator license. In May, 2010 he received his Doctorate Degree (Ph.D.) in Entomology from Texas A&M University. That same year, he moved to his current home in Phoenix, AZ to work as the western regional technical director for Home Team Pest Defense. In 2012, he joined BASF and is currently BASF's Technical Services Representative for western USA. This is Dr. Medina's first appearance at the New York Pest Expo. We are grateful to our friends at BASF for sponsoring his presentation.
Matthew Remmen, MS
Bayer, ES
"Zika and General Mosquito Control"
Up-to-the-minute report on Zika distribution, clinical features and transmission. What are our options for control? A proposal for readiness and planning for vector-borne diseases.
Matthew Remmen received his B.S. from the University of Florida under Dr. Phil Koehler and his M.S. from UF under Dr. Rudolph Scheffrahn. He served as a Regional Entomologist and Technical Services Manager for Western Pest Services from 2000-2009. From 2009-2011 Matt was the Bed Bug Division Manager for Bell Environmental Services. Since 2011, he has served as Area Sales Manager for Bayer ES in South Florida and Puerto Rico serving in key roles in Vector Control Operations. Matt is familiar with all common forms of pest management and served on various committees and work groups for best management practices. He has been licensed in New Jersey, New York, and Pennsylvania with specialties in GHP, Termite, Fumigation, School IPM, Food Processing, and Public Health. He is the co-author, along with Dr. Kurt Vandock, of today's presentation. This is Matt Remmen's first appearance at the New York Pest Expo. We are grateful to our friends at Bayer for sponsoring his presentation.
Dr. Matt Frye, Ph.D.
Cornell University
"Flies and Bed Bugs: These Insects Bite!"
Why they feed on blood – shared adaptations among blood feeders – a comparative study. Bite marks and pest ID controversies. An update on best management practices.

Dr. Matt Frye is an Extension Educator with the New York State Integrated Pest Management Program at Cornell University. He provides education and conducts research related to pest management in and around buildings. Dr. Frye received his Master's and PhD in entomology from the University of Delaware and previously worked as an urban entomologist in the pest management industry. This is Matt's first appearance at the New York Pest Expo.
Bonus Lecture!
Lou Sorkin, BCE,
Entsult Associates
Youth Will be Served
The immature stages of insects are important. Arthropod metamorphosis is a process by which the animal changes behavior and often a different nutrition source. The different types of metamorphosis include complete metamorphosis ("holometaboly"), incomplete metamorphosis ("hemimetaboly"), or no metamorphosis ("ametaboly").Lou's presentation includes a tasting of many of the immature insects used for human consumption. If you can't beat 'em, eat 'em!
Since 1978 Lou has provided entomological expertise to homeowners, businesses, associations and institutions. He has been involved in cases regarding species identification, pest management and infestations as well as the diagnosis of bites and stings as they apply to various aspects of applied, medical, veterinary, and forensic entomology. Lou works extensively with pest management companies to implement integrated pest management programs for their clients. Lou is a specialist in entomophagy (the practice of using insects as food). Today's lecture includes a tasting. Lou has made more presentations at the New York Pest Expo than any other speaker (regardless of age).
Our Exhibitors
Allergy Technologies, LLC
A great weapon in the war against bed bugs, ActiveGuard™ mattress and box spring liners are patented, fitted covers proven to kill bed bugs in both lab and real-life field demonstration scenarios. This translates into no live bugs crawling around under you while you sleep. Since the active liner goes on the mattress or box spring in the same way as a fitted sheet, installation is significantly easier than an encasement with no concerns over ripping or tearing. ActiveGuard just continues to work 24/7 for two years! Cutting edge research demonstrates that within only 10 minutes of contact, bed bugs tend not to feed and females do not drop their eggs, resulting in fewer bites and significant population control. Its continuous protection, easy installation and success rate make ActiveGuard a natural choice for PMPs, public health and housing agencies, shelters, universities, property managers, hotels and other transient lodging facilities in both active and preventive control strategies.
Anstar Products/Fieldwork
Anstar Products Inc. is a family-owned and -operated company, made up of 2nd and 3rd generation pest professionals with more than 50 combined years of experience in the industry. We create products that are essential tools in providing great pest control service to residential locations, hospitals, food manufacturing facilities, warehouses, office complexes, commercial kitchens, schools, nursing homes, hotels, university campuses, and housing facilities. In 2012, Anstar launched Fieldwork, web-based pest control software with iOS & Android native mobile apps. Fieldwork utilizes the latest technology, is rich in features for both Commercial and Residential pest control, and is very easy to use. Companies can start using Fieldwork without getting locked into contracts or paying expensive training fees.
Atlantic Paste and Glue
Atrix International
The Atrix line of Professional IPM Vacuums are Safe, Powerful, Clean, Efficient and Quiet. Why just kill bugs, when you can eliminate them? Increase your service, and increase your revenue with a Professional Atrix IPM Vacuum.
B&G Equipment Company
Be sure to stop by and visit with National Marketing manager Bob Heiney between instructional sessions. He will answer your toughest technical questions and give you tips on using equipment to maximize your earnings potential. Don't forget, B&G Knows How You Work!
BASF
Bayer
When you're Backed By Bayer, you have exactly what you need to get the job done right. From breakthrough products to business building tools, we're making getting the job done easier and more efficiently than ever before. Visit us at the New York Pest Expo to find out how Bayer is transforming the future of pest management.
Bell Labs
Bug Doctor/Bird Doctor, A Part of Anticimex
Bird Doctor Worldwide and Animal Doctor (A part of Anticimex) specialize in bird and animal control throughout the US. We partner with many Pest Control Companies as their subcontractor for bird and animal services. Why pass on this type of work when you can utilize our subcontracting services and make a percentage of the sale? We provide a full array of bird control services including installing bird netting, bird spike, pin and wire, electrified/flat track, bird dropping cleanup, bird removal and bird trapping programs. We also provide animal removal, animal trapping, animal dropping cleanup, and exclusion to block off access for animals to enter homes or businesses. Please call us at 1-800-825-1151 ext. 114 or email Stuart Aust (President and CEO) at stuart@birddoctorinc.com to discuss further. We look forward to working with you as your strategic partner.
Reneotech, Inc. dba: EcoRaider
EcoRaider RTU Professional is proven to be effective for bed bug remediation. Fast acting, resistance control, with lab and field proven 90% kill in one hour and 14 day residual, EcoRaider RTU Professional simplifies bed bug jobs. Named most effective natural insecticide for bed bugs by Entomological Society of America journal publication and field proven in USDA IR-4 Public Health Pesticide Program study. EcoRaider RTU Professionals is a premium green solution for perimeter ant control for both indoor and outdoor use. It provides key benefits to pest management professionals including fast killing in minutes, disrupting ant trails and prolonged prevention for 4 weeks. EcoRaider has low odor and is non-staining. Its 25(b) status makes it safe for all environments and the perfect partner for IPM programs. Visit us at the Expo and pick up a pint of EcoRaider at a blowout price that day only. Learn how to go green effectively.
JT Eaton & Co, Inc.
JT Eaton Co has been a manufacturer for the Pest Management industry for more than 80 years. We have a full line of rodent management products as well as bed bug management. Our ready-to-use liquid sprays and our NEW aerosol will help you combat the toughest bed bug issue. Please see us at our booth at the NY Expo!
HIBU
Hibu is a 360-degree marketing company. We offer a full spectrum of marketing tools and services that go "Beyond Yellow" to lead our clients to success, now and in the future. Our range of products include Building Websites, SEO & SEM, Reputation Management, Social Media applications, Direct Mail, Print and more.all with full transparent reporting. We go beyond yellow!! We're looking forward to another great New York Pest Expo.
LiphaTech

Liphatech offers superior and innovative rodent control products. We strive to consistently provide the most effective products and outstanding customer service to assist Pest Management Professionals in improving the quality of human life. We were the first to develop and offer the newest rodenticide formulation – soft bait – the most significant improvement in rodent control technology in several decades. We see soft bait as the future of rodenticides. It can be used anywhere mini block rodenticide is used. For more information about Liphatech and its comprehensive line of products, come see us at the Expo!
Mattress Safe, Inc.
Mattress Safe, Inc. offers bed-bug-certified and state-of-the-art mattress protection that is waterproof, breathable, fire retardant and non-allergenic. Made from a luxurious fabric that is soft to the touch while conforming to fit any mattress, the KleenCover® Collection includes mattress, box spring, and pillow encasements for all of your bedding needs.
MGK
MGK has been in business for over 100 years. They manufacture Bedlam, Nyguard, Onslaught and the first-of-its-kind Vendetta Plus roach bait with the IGR already in the bait.
New York Pest Management Association
NYPMA is the one association in NY representing pest management professionals throughout the state on the legislative front as well as with the NYDEC. Members enjoy joint-membership with the National Pest Management Association. Both associations offer members pest ID, model contracts, background screening services, gasoline discounts, HR guidance and literature for customers and technicians.
Nisus Corporation
A leader in Green Pest Management®, Nisus Corporation manufactures products for the professional pest management industry, providing it with quality products at the lowest possible impact to the environment. Nisus carries a complete line of products for wood preservation, pest control, sanitation and disinfection, and odor control. Nisus Corporation's flagship product is Bora-Care, a borate-based termiticide, insecticide and fungicide. Bora-Care is directly applied to wood, concrete, and foundation penetrations, creating a barrier and eliminating wood as a food source. Bora-Care is EPA-labeled for use on wood as a primary two-foot barrier termite pretreatment. It meets the sill plate end-cut requirements set by building codes and the AWPA.
North Coast Media/Pest Management Professional Magazine
Our Mission:
l To Arm pest management professionals (PMPs) with the industry intel needed to better control structural pests and better compete with other companies and do-it-yourself alternatives.
l To Educate PMPs through species identification and control tips, news of emerging pest management obstacles and opportunities, and updates on regulations, technologies, techniques, and business tools and trends.
l To Captivate readers with PMP's unique brand of industry INFOtainment.
PBC/Weisburger Insurance
It's been more than 80 years since Weisburger wrote its first insurance policy for the pest industry. Since then, Weisburger Insurance Brokerage, a division of Program Brokerage Corp., has been providing insurance to pest management professionals (PMPs) nationwide. As the endorsed insurance program by the National Pest Management Association (NPMA), Weisburger continually works to tailor its terms and conditions to meet the needs of all PMPs. The program is underwritten by "A" rated (excellent) insurance companies. It offers coverages that include General Liability, Auto, Property, Equipment, Umbrella and Workers' Compensation.
PDM

Representing:
Rockwell Labs
PelGar USA
PelGar USA specializes in rodent control products, notably Brigand Soft Bait a highly effective and palatable bromadiolone based rodent bait that is the only US formulation to use soft lard for better feeding and therefore more effective use.
EPIC
EPIC is the manufacturer of the #1 selling line of natural animal repellents in the U.S. They include repellents for deer, moles, snakes, voles, rabbits, armadillos, wild hogs and cats. Their granular repellents last longer, are much easier to apply than other brands and are safe for children and pets. EPIC products help lower labor costs and give professionals the results they need.
Birchmeier
and
Make-"Em-Move
Make Em Move is a manufacturing company which specializes in unique, green products for both bird and rodent control.
Pelsis, LLC.
Pelsis is a global supplier of environment enhancement products. We are a leading manufacturer of insect light traps, rodent bait stations, and many other pest control and hygiene products. Pelsis is focused on developing new, innovative products and solutions for the Pest Control market.
PestPac – By WorkWave
PestPac is the only true end-to-end solution for pest control companies of every size. Everything you need to manage and grow your business in one place. Let us help you reduce paperwork, squeeze time and cost from your day-to-day operations, generate more leads, close more sales and keep more customers.
PestWest Environmental
Pocomos Software
Founded in 2012, Pocomos' goal was to update pest control software and make it modern, powerful, and easy to use. Pocomos' flexible software allows your company to become an unstoppable titan of efficiency. Create E-contracts in the field, take payment on any mobile device, and complete work orders on the go. Get what you want for one flat fee. Increase sales with robust salestracking tools. Increase operating efficiency with our powerful report suite. Route your stops effectively with our Google Maps Integration. Pest control software redefined by Pocomos.
Rodent Capture, Inc.
Select Insurance Agency
Select Insurance Agency, Inc. is a family-owned and -operated company specializing in insurance products for the pest management industry. Select specializes in general liability, commercial automobile, umbrella liability, workers compensation, commercial property, employment practices liability, crime insurance and cyber liability specially tailored for the industry. We look forward to exhibiting at the 2016 New York Pest Expo this year and many years to follow.
ServicePro Software
ServicePro is a family-owned business with over 20 years of experience in the industry. They are the creators of the multi-browser based software ServSuite – the all-in-one enterprise pest control and lawn care solution. The software has a powerful architectural design that enables you to operate a single branch or multiple locations all over the world. ServicePro are known for their ServSuite add-on modules that give it high functional value: Scheduling, Renewals, Invoicing, Commissions, Collections, Credit Card Processing, etc., as well as some of their newer additions: the Mobile Application, GPS Vehicle Tracking, Voice and Text Notifications, etc. ServicePro has a well developed Support Team strategy, so that customers are covered with all the help they need 24 hours a day, 6 days a week.
Syngenta
Syngenta professional pest management is committed to delivering innovative pest control solutions and a broader range of support services to help you succeed as a pest management professional and help your customers get on with life uninterrupted in a pest-free environment.The portfolio of products now available from Syngenta includes some of the latest chemistry available along with brands professional pest control professionals have trusted for many years.
Wildlife Control Supplies
Wildlife Control Supplies offers the largest selection of wildlife and animal handling equipment and supplies available anywhere, backed by the expertise to help you effectively handle nuisance wildlife and animal management situations of all kinds. We listen to our customers and add new products to our inventory regularly to support your needs. We truly are your one-stop resource for nuisance wildlife and animal control products, and are dedicated to saving you time and money.