Serious Rodent Management with Style
Featuring John Murphy, Liphatech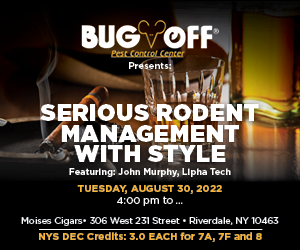 This workshop offers a briefing on looming changes to rodent management practices and ways that we can adapt to them and how to adopt new skills. Receive a briefing on Liphatech's new IGI System. This event will be held in our own private space in an upscale cigar lounge. After the training program, we will enjoy good food, premium cigars and an open bar.
Deadline for registration is Saturday, August 27.
Register now, space is limited. You don't want to miss out on this memorable evening.
Tuesday, August 30, 2022
4:00 pm to…
 Moises Cigars
306 West 231 Street
Riverdale, NY 10463
 Note: The training portion of this event runs from 4:30 pm to 7:30 pm.
If you arrive late or leave early for the workshop, you will not receive a certificate.
Persons without photo ID may not sign the roster or be issued a course certificate.
 Cost: $95.00
Includes Workshop, Food, Cigars and Open Bar!
 Payment is final
Absolutely no registration at the door
Registration deadline is Saturday, August 27.
 NYS DEC Credits: 3.0 EACH for 7A, 7F and 8