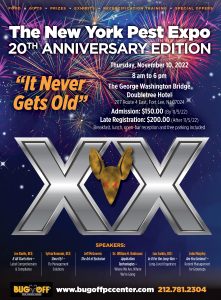 Food * Cocktails * Gifts * Prizes *  Exhibits *
Recertification Training * Special Offers *
Great Location * Free Parking 
 Thursday,  November 10, 2022
8 am to 6 pm 
The George Washington Bridge Doubletree Hotel
2117 Route 4 East, Fort Lee, NJ 07024
$149.00 Special room rate
(Call the hotel @ 201-461-9000 and mention Group Code T01)
Reserve your room online
The New York Pest Expo is celebrating its 20th Anniversary Edition! The Expo is one of the most significant events in pest management, and the 2022 Edition promises to be bigger and better than ever with more exhibitors and attendees than in years past. Come view exhibits and discuss product features with dozens of major manufacturers and business support providers. Take advantage of great promotions and blowout pricing on supplies and equipment. Miss it and you'll regret it.
Agenda:
Joe Barile, BCE: It All Starts Here – Label Comprehension & Compliance
Sylvia Kenmuir, BCE: Shoo Fly! – Fly Management Solutions
Jeff McGovern: The Art of Exclusion
Dr. William H. Robinson: Application Technologies – Where We Are, Where We're Going
Lou Sorkin, BCE: In it For the Long-Run – Long-Lived Organisms
John Murphy: Are You Serious? – Rodent Management for Grownups
Total NYS DEC credits for the entire event:
CORE – 1.00, 7A – 5.00, 7F – 5.00, 8 – 2.00
Note: Attendees who arrive after the start of the first training topic, or leave before the end of the last topic will not be included on the roster or issued a course certificate.
New York State Certified Technicians and Applicators must present their pesticide certification ID card in order to sign the roster and receive a certificate.
Admission: $150.00 (By 11/5/22);
Late registration: $200.00 (After 11/5/22)
(Breakfast, lunch, open-bar reception and free parking included)
Payment is Final